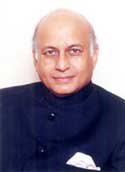 Mr. Lalit Mansingh has served as India's Foreign Secretary, Ambassador to the United States and High Commissioner to the United Kingdom.
Ambassador Mansingh joined the Indian Foreign Service in 1963 after securing the first position in the All India Civil Service Examination. After his initial posting in Geneva, he went on to serve as Deputy Chief of Mission in the Indian Embassies in Kabul, Brussels, and Washington. Besides Washington and London, he has been Head of Mission in the United Arab Emirates and in Nigeria with concurrent accreditation to Benin, Chad and Cameroon.
At headquarters in Delhi, Ambassador Mansingh worked in a variety of assignments: as Joint Secretary in the Ministry of Finance, Director General of the Indian Council for Cultural Relations, Dean of the Foreign Service Institute and Secretary (West) in the Ministry of External Affairs.
Born on 29 April 1941, Ambassador Mansingh graduated in History and obtained a Master's degree in Political Science. He was awarded the University's Gold Medals for securing the top position in both subjects. Before joining the Foreign Service, he worked as a Research Scholar in American Studies at the School of International Studies in Delhi, and as Lecturer in the Post-Graduate Department of Political Science, University of Bhubaneswar, Orissa.
Recent engagements include Prof Emeritus at the Foreign Service Institute of India; Member, Executive Committee of the Institute of Peace and Conflict Studies, New Delhi; Member, Indian Council for Sustainable Development, Member, International Advisory Council, APCO Worldwide, Washington D.C. and Member, Governing Council of Development Alternatives, New Delhi.